Fresh Faced
Anyone who knows me knows that I'm currently having a major love affair with all things Glossier. If you're not familiar with this new beauty brand, they're all about creating the "new essentials" inspired by real life beauty needs and high-low culture (something that I'm all about!) Their brand focuses on having an edited collection of items, put simply, fewer but better (and for anyone who has ever lived with a NYC sized bathroom you can understand why…)
Growing up I never considered myself a "products" girl. I bought most of my make-up at CVS, and I didn't even know what a tinted moisturizer was in college (for those still late to the game, it's a moisturizer that also give a nice little tint, pretty genius). Now that I think of it, I don't even think I HAD a skincare or beauty routine in college (if i washed my face after a night out, that was good enough).
But as I got older (and wiser) and paid more attention to my face and the products I put on it, I slowly but surely became product obsessed. While I'm far from an expert, I'm excited to share my love for these Glossier products, and any other worthy items I discover.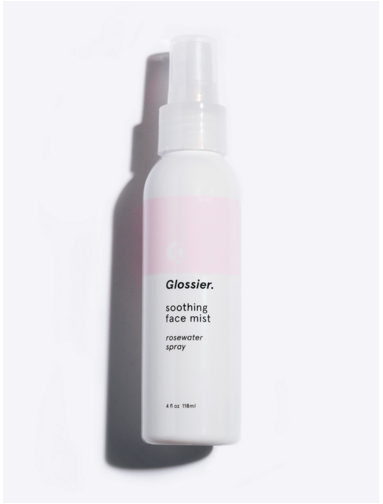 Glossier's philosophy revolves around the idea that the most important part of any beauty routine is a primed canvas — your skin! These are not the kind of products that cover up, but rather enhance what you already have. Using just Priming Moisturizer, Face Tint, and Boy Brow (my favorite product at the moment) I can accomplish the perfect no-makeup makeup look. My skin looks dewy, moisturized, and awake. I throw on the Boy Brow for the perfectly coifed full-brow look and voila, I'm ready for the day.
Face in need of a daily detox or dose of moisture? The Glossier mask set is my dream! And did I mention their lip balm, balm.com? It's pretty much that. During the dry winter months these products have been my go-to glam squad.
Glossier just launched it's second phase of products and I can't wait to try them out, especially their new line of Generation G lipsticks (they seems to give the perfect post popsicle flush). Want to try Glossier for yourself? Click here for 20% off your first order! Have any question about their products? Leave me a comment over on instagram and I'd be happy to help!
I think Glossier's packaging says it best -- Skin First, Makeup Second, Smile Always :)
Images via Glossier